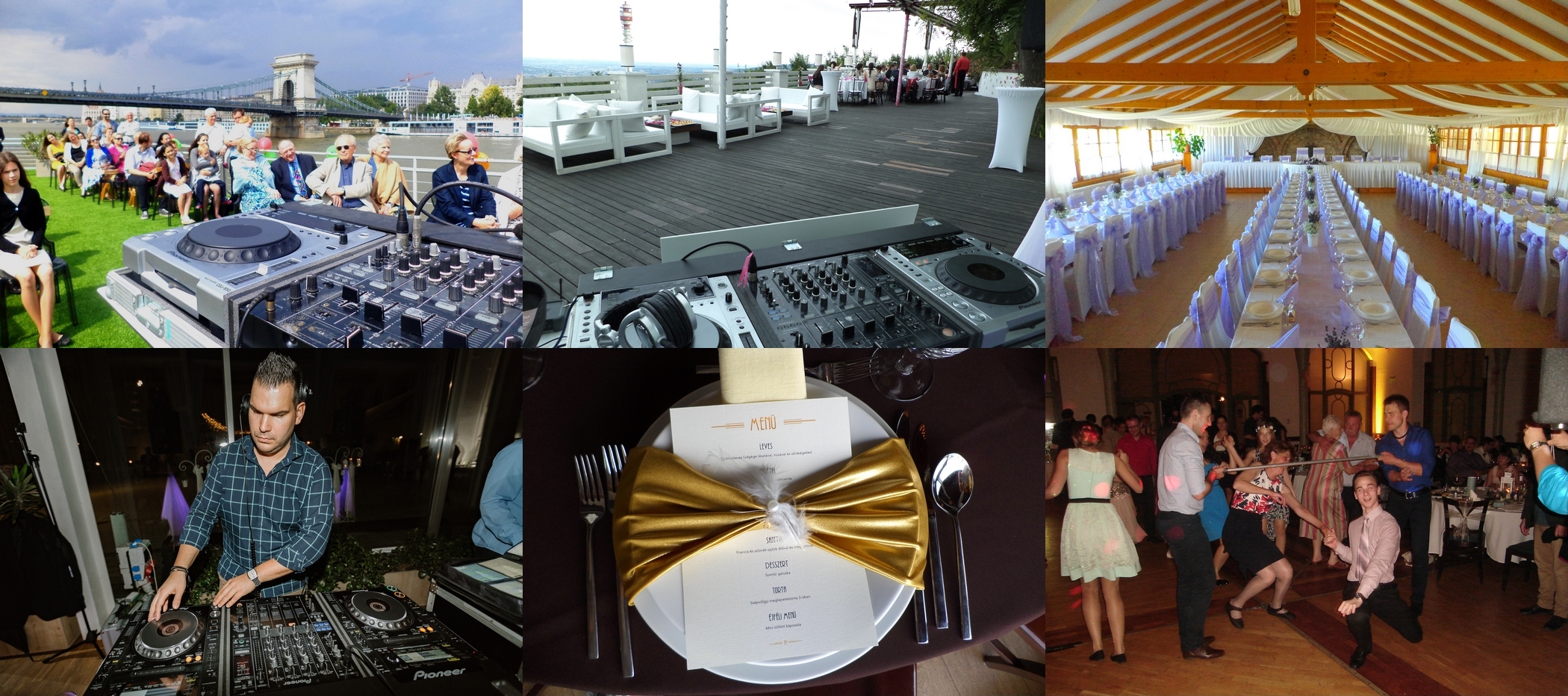 What am I going to give you?
In short, it could be said that everything about the sound reinforcement and lighting that you need for the wedding party will be provided at the venue, so the couple do not have to provide anything, except the 220V power supply point for the wedding venue and one or two tables that I will need for my  equipment.
Approximately 35-40 thousand weddings occur in Hungary annually with the highest propotion in their twenties, thirties, and forties. The new generations follow new trends and new habits unlike our grandparents. Certain weddings can be influenced by international customs and with traditions taken from other countries. A lot of Hungarian nationals that normally live and work abroad are coming home to marry in Hungary, since Hungarian weddings are very good in terms of price and quality compared to other countries, and work to high standards. Urbanized couples love to be somewhat or totally disassociated with the rural wedding traditions and imagine their wedding in a more elegant setting. Because of this, more than half of the weddings that hire the Wedding DJ  have a preference for more modern styles of music. This ratio is even higher in Budapest and Pest County.
To help organise weddings is a responsible job, so for this and other reasons, I do not drink alcohol during work. I also have not smoked for 30 years, so I will not need to leave the DJ counter for a cigarette break.
Wedding DJ Budapest
I am Vince Major – Wedding DJ, also known as Vinch Enzo in the wedding industry.
I live in Budapest, most of my weddings are in Budapest and Pest County, but my wedding DJ services are available throughout the whole country, and abroad too. I have been in the surrounding countries several times to work, for example in Slovakia. Most of my weddings are on Saturdays, but Friday weddings are not uncommon either.
I've been playing in many Budapest and Pest County weddings, to see my references it's worth visiting the references menu on my website  (maybe you will find your wedding venue here, too).
I, the wedding DJ am able to entertain the guests from the evenings until morning, without stopping and resting, and our favorite songs are in original quality. An experienced, well-prepared Wedding DJ works from 50 to 60 years of music palette, adapting to the needs of the couple and the guests. The vigilant and attentive wedding DJ has a conscious idea for playing for the guests. Playing the couple's and guests' requests, as long as this fits in with the original music concept set by the couple.
I am self-employed. I make contracts with every wedding couple and other clients and issue an invoice at the end of the party. For me, these two things are indispensable. I have every other copyright and technical backing, so the couple do not have to rent anything for the Wedding DJ party.
Let's see my basic offer for your Big Day of your wedding in Budapest
* Personal meeting – disgussing the wedding – and then contracting if both parties are in agreement.
* For couples abroad, Skype conversation.
* I arrive at the venue 2 hours before the guests.
* I install the required sound technology.
* I provide spectacular light technology for the party.
* I provide a wireless microphone and a stand for the ceremony, for the speeches of the ceremony master, best man, and relatives.
* If the church or civil ceremony is at the wedding venue, I will also do the sound reinforcement for those, too.
* During the dinner, Jazz, Swing, Lounge, Bossa Nova, soft background music will be played.
* The couple's forwarded music requests are included in the setlist and I play them during the evening.
* I take on-site requests of the guests.
* I provide a wedding DJ service with no time limit – I don't stop 'till you had enough.
* I will happily give you advice, I will show photographs from my previous weddings to help give you inspiration.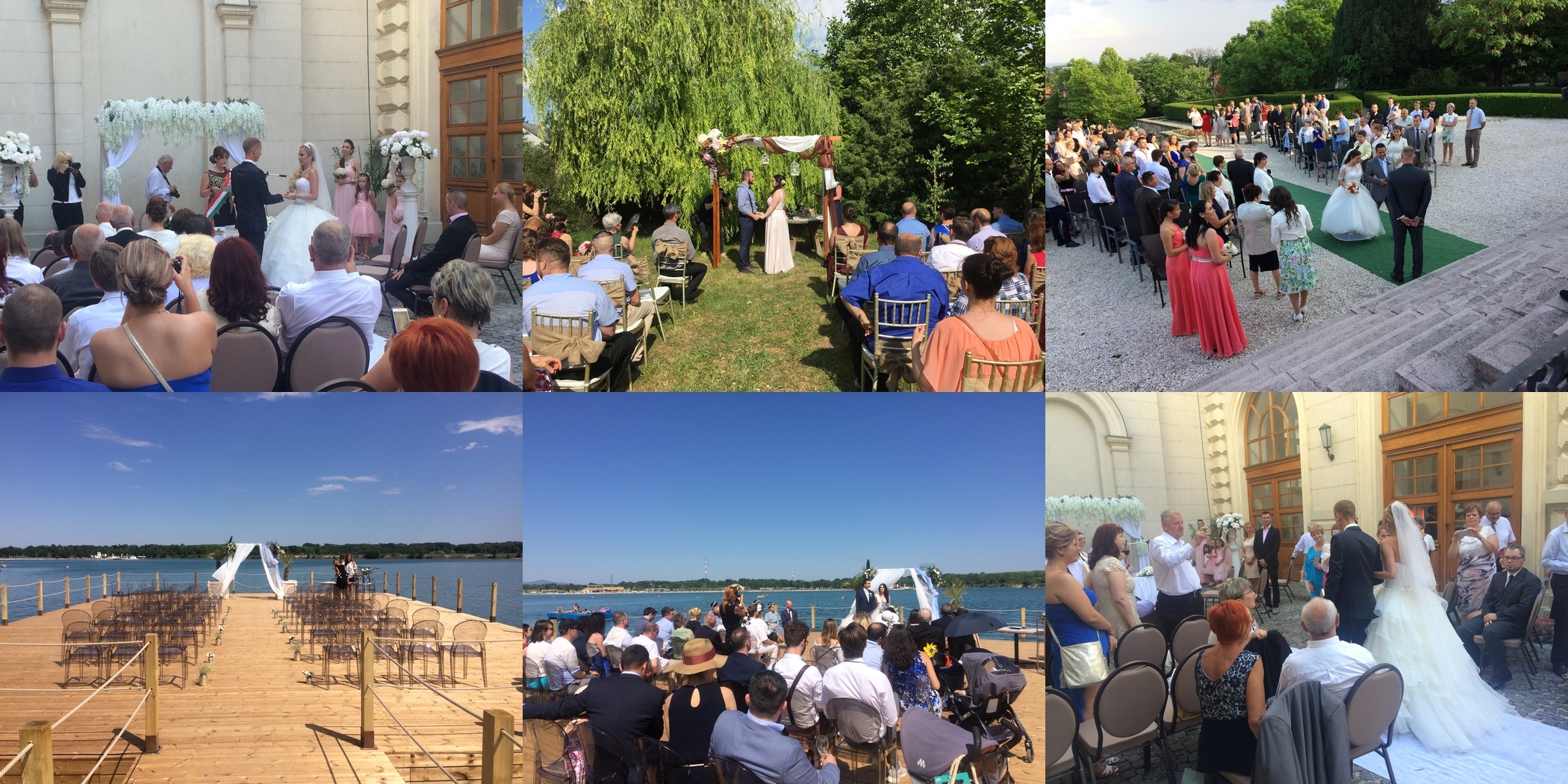 Played styles, What do I choose from at the weddings?
From 1960 onwards all the party, cheerful, dancing music.
Some of the proven styles I use for the wedding party:
Rocky, Rock'N'Roll, Oldies, Evergreen Hungarian hits, Dance Festival Music, Hungarian and international hits from the 70s, 80s and 90s, Funky, RnB, Hip-Hop, Latin, Swing, Rock, Pop Rock, today's House, Deep House hits, old and new Hungarian songs.
In each case, I negotiate with the couple in advance to determine what musical demands there are. Then they provide me the list of their favourite 20-30-40 songs which will be supplemented by any requests made on the day.
From this I build up a conscious concept, from this mass I produce a party-capable music list. My goal is for all ages to feel good and to dance.
International wedding experience
Indian – Hungarian
Pakistani – Hungarian
Chinese – Hungarian
French – Hungarian
American – Hungarian
Holland – Hungarian
German – Hungarian
Italian – Hungarian
Britsh – Hungarian
Slovakian – Hungarian
Russian – Hungarian
There is no travel and excursion fee. If you have a venue in Budapest and I have not been there yet, I would like to go to the venue with you for a personal meeting.
We can have a look at the location, where would the dance floor be, where would the DJ desk be, where the guests would sit, how can I have the 220V power, parking, packing etc..


If you are interested, ask for a free wedding DJ price for your wedding in Budapest.
I have to know for the price quote:
– The exact date of the wedding?
– The exact name of the venue?
– Number of the guests?
– If I need to sound reinforce the civil ceremony?
If you give me these parameters then I will send you a quotation.Additionally, it may be useful to write a few sentences about the wedding you want, what you imagine, what you want, in style, to do or whatever you consider important to me, so that I can imagine your Big Day.
I hope you will be the next couple on my list of successful projects!
Ask for a free quote on my contact details.
E-mail: info@lagzim.hu
Tel: +36-30-419-9397
Facebook: facebook.com/lagzim